Hover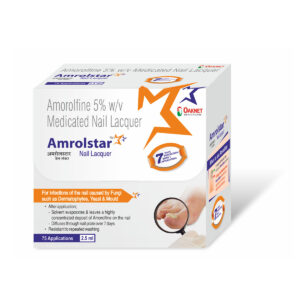 Amrolstar nail lacquer is a potent antifungal, with dual mode of action (fungicidal and fungistatic) along with affordability. It is used for treating fungal infection of the nails. Amrolstar Nail Lacquer is superior than Ciclopirox and offers 7 Days Protection with only 1 application as it diffuses through nail plate over 7 days and resistant to repeated washing.
---
Indication
In fungal infection of nails caused by fungi such as dermatophytes, yeast and mould.
Composition
Amorolfine 5% w/v
Direction of use
Always use Amrolstar nail laquer exactly as your doctor has advised. You should check with your doctor if you are not sure. Apply for 6 months in finger nail infection and 9-12 months for toe nail infection. Method of administration: Amrolstar nail lacquer should be applied to the affected finger or toe nails once weekly.
Step 1: File the nail: Before the first application, file down the infected areas of nail, including the nail surface, as much as possible using the nail file provided.
Step 2: Clean the nail: Use one of the swabs provided to clean the nail surface. Repeat steps 1 and 2 for each affected nail.
Step 3: Take some Amrolstar nail lacquer from the bottle: Dip one of the re-usable applicators into the bottle of nail laquer. it must not be wiped off on the edge of the bottle before it is applied.
Step 4: Apply the nail laquer: Apply the nail laquer evenly over the entire surface of the nail. Repeat steps 3 and 4 for each infected nail.
Step 5: Allow to dry: Let the treated nail(s) dry for approximately for 3 minutes.
Step 6: Clean the applicator.